Kindle Daily Deal TODAY ONLY:
Super Hero Graphic Novels Just $2.99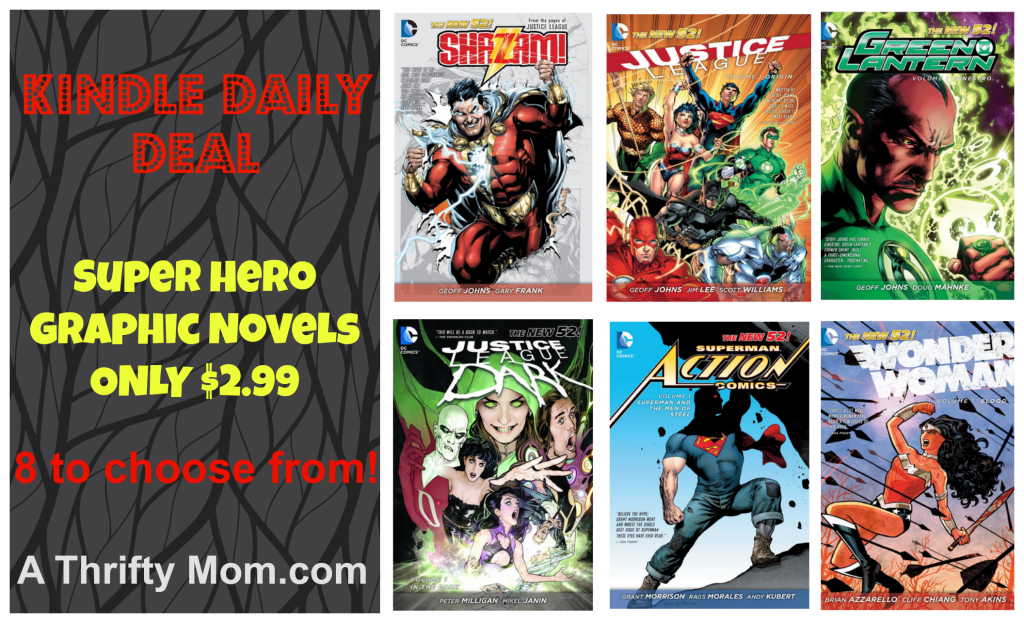 Justice League Vol. 1: Origin (The New 52)
Wonder Woman Vol. 1: Blood (The New 52) (Wonder Woman (DC Comics Hardcover))
Superman – Action Comics Vol. 1: Superman and the Men of Steel (The New 52) (Superman Action Comics)
Justice League Dark Vol. 1: In the Dark (The New 52) (Jla (Justice League of America) (Graphic Novels))
Green Lantern Vol. 1: Sinestro (The New 52)
Green Arrow Vol. 1: The Midas Touch (The New 52)
Aquaman Vol. 1: The Trench (The New 52)
*****************************
Remember you don't have to have a Kindle to read these, these are digital so you can read them on your PC or iPad.  You can download Kindle for your PC here then you can read it on your home computer.
To view the huge selection of Kindle books click here.
 Try Prime for FREE!
Looking for More Online Deals?  Click here for more  THRIFTY DEALS. Please note that Amazon priced tend to change often so prices may be higher or lower without notice.
Disclaimer: This post may or may not contain affiliate links.
SUBSCRIBE and never miss a thing!