Last year I ordered a pair of glasses for my daughter from Coastal Contacts, they are still holding up!
Here is the current offer and it looks good to me!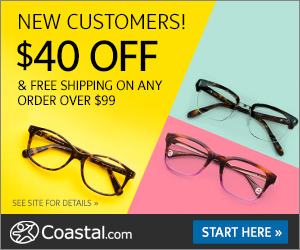 New Coastal Contact customers get $40 off glasses on orders over $99.
AND get
free shipping and handling on all glasses and sunglasses
A sample of the Men's selection
A sample of the women's selection

Disclaimer: This post may or may not contain affiliate links.
SUBSCRIBE and never miss a thing!