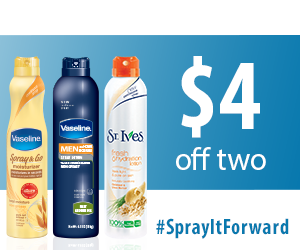 New coupon on Facebook
 $4.00 off of two Vaseline or St. Ives® spray lotions – Vaseline Spray & Go Moisturizer, Vaseline Men Spray Lotion, or St. Ives® Fresh Hydration Lotion
Receive one $2 off coupon for you and another $2.00 off coupon – up to $4.00 total – when you #SprayItForward and share with friends.
Get freshly moisturized skin in seconds with this offer – and don't forget to #SprayItForward to save even more.
*****US Only*****
Disclaimer: This post may or may not contain affiliate links.
SUBSCRIBE and never miss a thing!
Disclaimer and Official Rules for Sweepstakes