This one is new to me, but saving money for entertainment is a good thing!!!
Get $10 off your first purchase too.
There is NO minimum purchase required.
You just have to be a FIRST TIME customer.
All you need is your e-mail and a password to create an account!
Check your e-mail for your Online Code to get $10 off your first purchase 
ScoreBig is the place to save this summer on sports, concert and theater tickets without paying any fees or shipping charges for the privilege.
ScoreBig's tickets are below box office price and 100% guaranteed.
In exchange for great tickets at great prices, at ScoreBig, you do things a little differently.
They don't tell you what to pay, you decide…how much you save is up to you.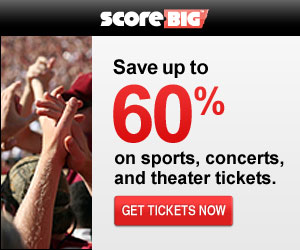 So check out ScoreBig to save up to 60% on tickets!
I live in Idaho and the program found these options for me locally!!!
all I needed to sign up my email and a password!