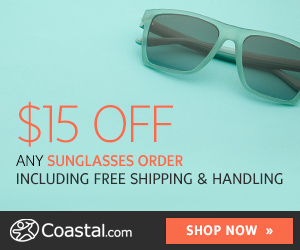 Coastal Contacts has changed their offer starting last month.
As a new customer you can get $15
off glasses or sunglasses plus free shipping and handling
Use the CODE: FIRST15 at checkout.
Here is a selection of higher end Polarize sunglasses
Here is a selection of lower end Polarized sunglasses.
Seems you can get these prescription or NON-prescription.
Example of my Billing Summary with offer Code.
This is without a prescription by the way.
****************
IF you don't need sunglasses this offer works on glasses too.