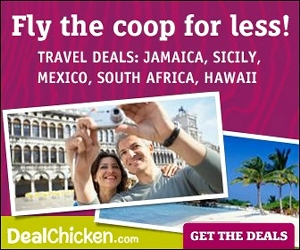 Summer is here and if you haven't already planned your vacation or are looking for a Thrifty offer then we found something for you, AND joining is FREE!!!
DealChicken Travel delivers deep discounts on travel, from quaint bed & breakfasts to tropical escapes. Join the email list (it is FREE) and get notified every time a new deal hatches.
Right now there are loads of offers at DealChicken.
Take a trip to our Nations Capitol for only $199 for three day / two-night stay for 2 and get one round trip airline ticket: (to find this deal open the Deal Chicken MarketPlace and scroll through the offers)
The Deal
$199 for three day / two-night stay in Washington, D.C., for two and bonus companion round-trip airline ticket ($800 value)
Standard accommodations at a Ramada, Radisson, Sheraton or other preferred partner hotel
DealChicken travel deals are not offered for sale to persons in Florida
Promotion Expires June 12, 2014
Disclaimer: This post may or may not contain affiliate links.
SUBSCRIBE and never miss a thing!
Disclaimer and Official Rules for Sweepstakes