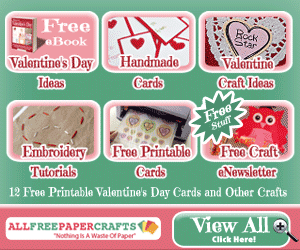 Valentine's Day just isn't the same without Valentines, and paper is the ideal material for making them!
From handmade cards to free printable Valentine's, these tutorials will guarantee that your cards will be unique and fabulous.
There's no reason to buy those little foil Valentines from your local convenience store when you can make gorgeous handmade beauties instead!
From embroidery tutorials to cards made with Washi tape and paint, you won't believe the paper crafting possibilities associated with Valentine's Day.
Plus, as an added bonus we have some additional Valentine's Day crafts that you can make.
decorate your home
make lovely origami projects
prepare for the holiday of love with these fabulous holiday paper crafts
*************
Offer valid in the US only.