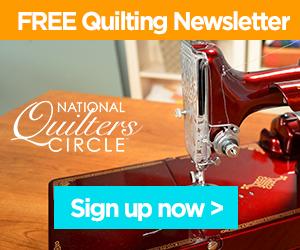 If you are a quilter or thinking about starting this stress-relieving hobby or perhaps you know someone who quilts 
then you will want to sign up for The Inner Circle Free Newsletter or share this information.
What you get when you sign up
New How-To Videos – Get the latest quilting how-to videos delivered right to your inbox every week

New Quilting Articles – First look at quilting tips and techniques written by our team of experts

Weekly Inspiration – Fresh new quilting ideas and fun projects to try out every week

Deals & Steals – Our partners have special offers ready and waiting for you throughout the year

PLUS its FREE! – This one's a no-brainer!
Open to US only residents only