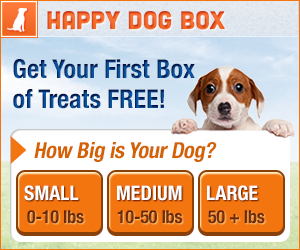 Just ordered my first box of treats from Happy Dog Box, excited to see what will be in it.
This is a $42 value for the price of shipping $4.99
Sign up to receive a new Dog Toys and Treats in the mail every month too.
Discover new treats your dog will LOVE
Save time & money shopping for those perfect treats
Each box is customized to your dog's preferences
Our dog treats are top quality
100% Satisfaction Guaranteed
If you choose not to keep your monthly subscription after the first package you can cancel. I read the Terms & Conditions, I suggest you do too.
Last month's treats from Happy Dog Box was:
Blue Buffalo health bars
Canyon Creek Ranch Cowboy Style Drumettes
Prairie Dog Deer Antler Chews
Wet Noses Cookie Dog Treats