Gluten FREE diets are a challenge. Trying to find tasty choices must be a hassle of trial and error.
 Taste Guru is offering you (or someone you love) a FREE box (value of $37.00) of their Gluten FREE box of the month club for a limited time.
Use the online code CPFREE and only pay shipping of $11.95.
Each box contains 5lbs of food
Is 100% satisfaction guaranteed
Is tasted and tested for top quality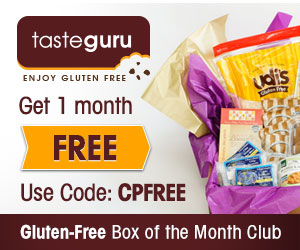 Taste Guru was founded, a gluten-free box of the month club, because it can be tough to find great-tasting, gluten-free food. We taste dozens of new foods every month, box up our favorite finds, and deliver them to your door each month with free shipping (after the 1st free box) plus the cost of food, which is lower than you can find in your local grocery store. We think it's time you enjoyed gluten free!
Cost efficiency of the box

Brand awareness – helping to promote the small companies with quality products as well as the larger, well-known companies

Passion for the gluten-free lifestyle – there is a personal connection (gluten-free founder, gluten-free employees); want to help others through their GF journey

Will only promote and include gluten-free products that pass the test – will not give customers food that isn't worth it

Resource for community – TG Magazine's tips & recipes; Spreading awareness and promoting brands and bloggers via social media

Our personalized recipe card that goes in each months box

convenience factor — people starting out gluten free don't know where to start

We are like your gluten-free personal shopper!

relationships with great vendors, small mom & pop shops and bigger vendors that give us the newest products out there.
This is an example of what was in a recent box: