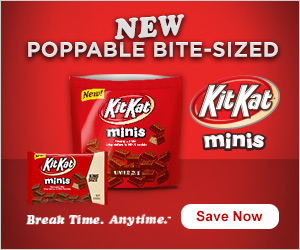 Save up to $2.50 on NEW Kit Kat Minis.
What is a Kit Kat mini? They are poppable, bite-sized minis that make Anytime your break time.
The 8 ounce Pouch of Kit Kat Minis—which are great for sharing with family & friends.
Great for snacks, after dinner treats, while watching a movie or on a summer road trip.
Watch the Video to save $1 on any one bag of KitKat Mini,
share on Facebook or Twitter and get a higher value coupon
Right now these are 2/$6 in stores only, so $1.75 per bag 
Thanks Reader Kim for the correction
This would be $.50 to $2.00 per bag!