This deal just got better!!!
IF you place your order in the first 24 hours of creating your account get 50% off!!!!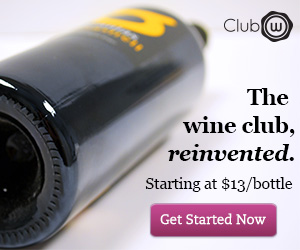 Club W is a monthly experience and starts with 3 bottles a month for $39 +$6 flat rate shipping.
Order 6 bottles or more and shipping is FREE! "max discount $20"
Not a wine geek? No worries. If you're not sure what kind of wine you like, Club W's Palate Profile will help them tailor recommendations based on your tastes. The more they get to know you, the better their recommendations will become. Build your palate profile by answering questions such as:
How do you like your coffee?
How do you feel about salt?
Do you like citrus?
Do you like earthy flavors like mushrooms and black truffles?
Do you like blackberries, blueberries and raspberries?
How adventurous are you when it comes to food and drink?
You will need to enter and email address, create a password and answer the question of how did you heard about them.
Accepted Regions: ARIZONA, CALIFORNIA, COLORADO, CONNECTICUT, DISTRICT OF COLUMBIA, FLORIDA, GEORGIA, IDAHO, ILLINOIS, INDIANA, IOWA, KANSAS, LOUISIANA, MAINE, MARYLAND, MICHIGAN, MINNESOTA, MISSOURI, MONTANA, NEBRASKA, NEVADA, NEW HAMPSHIRE, NEW JERSEY, NEW MEXICO, NEW YORK, NORTH CAROLINA, NORTH DAKOTA, OHIO, OREGON, SOUTH CAROLINA, TENNESSEE, TEXAS, VERMONT, VIRGINIA, WASHINGTON, WEST VIRGINIA, WISCONSIN, WYOMING