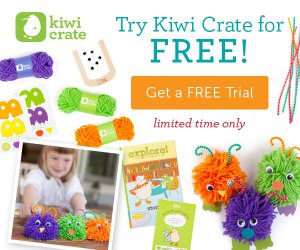 Try Kiwi Crate for free! Only $3.95 shipping.
Enjoy a free sample-size project from one of our most popular crates!
You will be automatically enrolled in a Kiwi Crate monthly subscription*, and may cancel at anytime.
Imagine  monthly crafts to do with your children on a snowy or rainy day. KILL the boredom days!
Your free trial includes: Pom Pom Pets**
Create three of your very own fuzzy friends to play with! Explore the world of imagination and storytelling with our explore! Play & learn magazine filled with bonus projects and activities!
CRATE INCLUDES:
Three skeins of colorful yarn
Custom pom pom winder
Pipe cleaners, googly eyes and stickers to decorate your pom pom pets
Certificate of adoption for your pets
16 page explore! magazine filled with puzzles, DIY activities and a bonus finger puppet project
NOTE: This is a sample crate. My Rad Rockets is one of two projects from our popular Flight crate.
* Your free trial project will ship within two business days. You will have 14 days after your trial project ships to cancel your subscription. If you choose to not cancel, you will be charged $19.95/month (see our FAQs for details) and receive 2-3 new projects per month with your Kiwi Crate monthly subscription. You may cancel at any time. Offer only available to U.S. residents.

**The free trial includes a sample activity. The Kiwi Crate regular crates include 2-3 hands-on projects.