Monsters Inc is one of my all time favorite family friendly movie.
I still have my kids collection of Disney movies on VHS 🙂
Disney books are timeless stories full of colorful pictures.
This weekend only (June 21st -23rd) – Get a FREE Monsters Inc. poster with every order. The poster (24×36) will automatically be added to the cart when you order.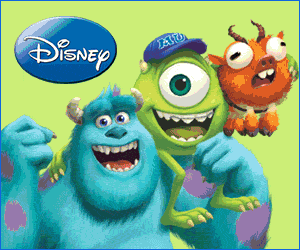 Get Started with 4 Disney Books for 99 cents each, Plus Free Shipping.
Additionally you'll get a FREE Disney Activity Book with stickers.
Go back to school with Mike and Sulley, your favorite monsters! Based on the hit Disney•Pixar movie, this fast-paced story reveals how Mike and Sulley started out as rivals back in college at Monsters University. But when that rivalry gets them kicked out of the Scaring Program, they have to learn to work together to make their dreams come true. This beautifully illustrated hardcover storybook gives you a peek at their past, and tells the heartwarming tale of how the two monsters became a team—and best friends.
Build a library of high-quality, hardcover Disney classics and Pixar hits.
No commitment required.
100% Satisfaction Guarantee.
(The image above is NOT the poster image)