We streamed "The Avengers" this week and plan on using another of our monthly DVD credits from the Kiosk this weekend!!!
This program is great and we don't have Verizon internet or phones.
If we choose not to continue after the trial we can cancel as there is NO obligation to continue.
Beat the heat…. pop the corn, make a fort and enjoy some movies with the kids.
Or put the kids to bed and cuddle on the sofa with your hunny and have a date night at home.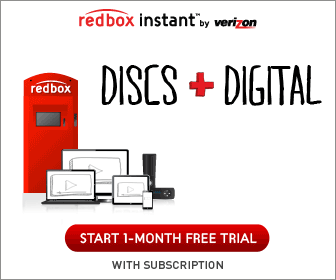 Get a 1-Month Free Trial to Redbox Instant™ by Verizon with a subscription (or "with sign up").
Receive access to a Streaming Library of Hits and 4 DVD Credits every month for rentals at your local Redbox kiosk.
Once your free trial expires, membership costs $8 per month plus taxes.
That matches Netflix's Unlimited Streaming package.
Sign up for the 1 month free trial
Instant, unlimited access to streaming movies
Enjoy 4 fabulous DVD credits at the Kiosk
Stream movies wherever you are
Stream to your computer, Xbox 360, Samsung Smart TV & Blu-ray players, Apple iPhones & iPads, and Android phones & tablets!
After FREE trial, just $8 a month  and you'll continue to enjoy 4 Redbox DVD credits every month.
Each credit is good for 1 overnight rental of 1 DVD. If you keep your DVD an extra night, it just uses another credit. You won't be charged until your credits are all used up. And the next month it refills to 4 DVD credits again.
No commitment required you can cancel anytime.