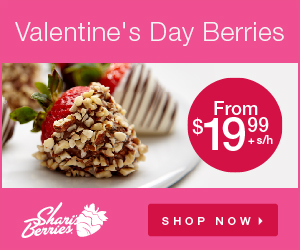 Can you believe that Valentine's Day is Friday, February 14…we just put away Christmas just a few weeks ago!
Anyway I would love these decadent treat delivered to me… wouldn't you?
Get the most delicious Gourmet Dipped Berries out there for $19.99 folks!!! Shari's Berries …. YUM!
***offer valid for US only***
Disclaimer: This post may or may not contain affiliate links.
SUBSCRIBE and never miss a thing!
Disclaimer and Official Rules for Sweepstakes