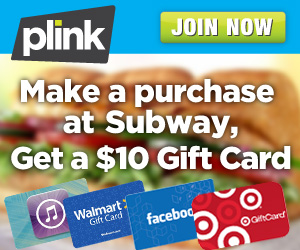 Plink is another great way to earn rewards for stuff you are doing anyway, like using your credit/debit card at stores, gas and restaurants in your area OFFLINE. Here is another great offer for NEW Plink Members.
Private offer for new members only to Plink!
Sign up for your FREE Plink account today, make any purchase at Subway by Sunday, 6/23 11:59 EST, and Plink will give you 1,000 Plink Points, which is enough to redeem for a $10 Gift Card of your choice at places like:
Amazon.com
Target
Walmart
Kohls
Starbucks and more!
As Subway is a private offer for new members only, the offer will not appear in your Plink Wallet.
Restrictions:
New Plink members only, one sign-up bonus per person
Plink Member must link a credit or debit card and make a purchase at Subway by Sunday, 6/23 11:59 EST
Purchase is necessary (after the member links a credit/debit card to their Plink account) to qualify for the bonus 1,000 Plink Points by Sunday, 6/23 11:59 EST
Bonus 1,000 Plink Points will be awarded within 7 business days of the transaction posting date.
Subway purchases that occur on 6/24 or later will not qualify for the bonus.