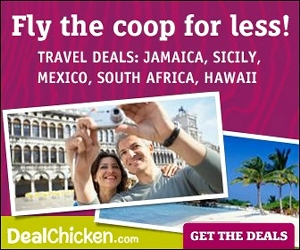 Summer is here and if you haven't already planned your vacation or are looking for a Thrifty offer then we found something for you, AND joining is FREE!!!
DealChicken Travel delivers deep discounts on travel, from quaint bed & breakfasts to tropical escapes. Join the email list (it is FREE) and get notified every time a new deal hatches.
Right now there are loads of offers at DealChicken.
Here is an offer that looked refreshing to me:
76% off a 4-day/3-night getaway for 2 to Daytona Beach, Florida
$79 for 4 days & nights of lodging for 2 people in Daytona Beach, FL (a $327 value)
Standard accommodations at the Oceanside Inn or comparable beachfront hotel
Resort sits right on the World's Most Famous Beach, Daytona Beach
Not valid in the state of Florida
No timeshare presentation involved
Promotion Expires June 7, 2014
Here is an offer that is close to my home:
$49 for a Two Night Stay in Vegas or Orlando
$49 for 2-night stay for 2 adults and 2 kids in Las Vegas, Nev., or Orlando, Fla. ($248 value)
At least one adult must be 21 or older; children must by 15 or younger
Does not include $50 refundable deposit, less $10 processing fee
DealChicken travel deals are not offered for sale to persons in Florida
Promotion Expires June 8, 2014
Disclaimer: This post may or may not contain affiliate links.
SUBSCRIBE and never miss a thing!
Disclaimer and Official Rules for Sweepstakes