Use the promo code TAKEHALF to get 5o% off a months subscription to Citrus Lane.
Citrus Lane will deliver for FREE each month the best, age-appropriate products for your child.
This would make a perfect gift for new parents as a baby shower gift from grandparents, friends, aunts or uncles. Add variety to you and your childs life. These could be turned into Easter gifts, Christmas gifts, birthday gifts, Valentine's day gifts even un-birthday gifts.
It is not hard to get started with Citrus Lane:
Select the plan that works best for you and your little one. Plans start as low as $21 per month.
Tell us your little one's age (from newborn to 3 years old) so we pick just the right products for your box.
We deliver a special box to your door every month…and shipping is free!
You can choose a monthly plan (use coupon code TAKEHALF to get 50% off the monthly plan), 3 month plan, 6 month plan or a 12 month plan.
**********************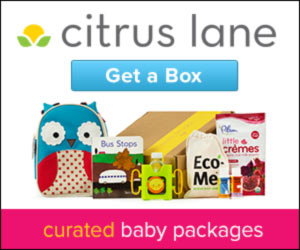 What you see in the photo above and listed below is what was in the Citrus Lane August 2012 shipment and was for toddlers.
I did a quick check on what these items listed for retail and listed those too.
Skip Hop Zoo Lunchie Insulated Lunch Bag ~ $10.27
Bus Stops Board Book ~ $6.29
Packin' Smart Keepaa Drink Holder ~ $5.99
Eco-Me Dish Soap & Floor Cleaner ~  16oz Dish soap sells for $4.99
Plum Organics Little Crèmes ~ $14.99
Retail prices taken online $42.53 … you would be paying $25.00 saving $17.53
Fine print: Only new, first-time Citrus Lane subscribers who start a monthly subscription are eligible for the TAKEHALF offer