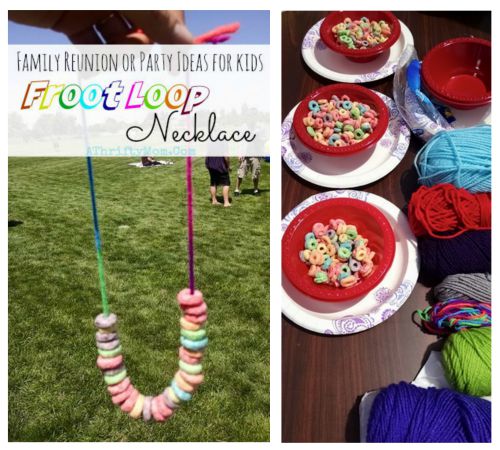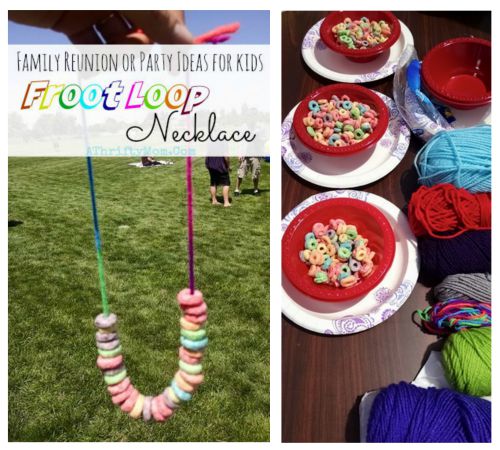 Summer picnics and family reunions are FUN, but planning activities for large groups can be overwhelming. We have made cereal necklaces since I was little (so for over 30 years) and kids still seem to think they are amazing.  Froot Loop Necklaces are low cost, kids friendly, fun activity that can easily be made in a large group.
All you need is:
Froot Loops or other cereal with holes in the middle
Scissors
Thicker or stiffer yarn or twine is easier for the kids to get into the hole so keep that in mind. This project can be done with Cheerios too. but you will need to have thinner yarn.  Give each child a piece of string, make sure it is long enough for them to put over their head once it is tied.  Give each child a bowl or cup full of cereal and let them start threading the cereal on to the string. Once done tie the two ends together  and wear as a necklace.
Here are some MORE Family Reunion or Summer Game Ideas:
Family Reunion Game Ideas
Diggin Active Dodge Tag
Outdoor games for summer party or family reunion
****************************
You can take advantage of FREE Shipping with Prime and get it in two days… remember you can try prime for FREE for 30 days. Try Prime for FREE!
Looking for More Online Deals?  Click here for more  THRIFTY DEALS. Please note that Amazon priced tend to change often so prices may be higher or lower without notice.