Felt Bunny Pattern Page Free Printable Easter Printable
Be careful because these are so adorable, before you know it, they'll be multiplying like rabbits!
Also, I'm by no means an expert at sewing! I know how to use my machine and that's about all! If you are familiar with your machine, you'll be able to make these!
-You need
9×12 Sheets of Felt, at least 2 of the same color.  2 sheets for one bunny. Two sheets of felt will actually make 3 bunnies (see image below)
Thread to match your felt
Push Pins
Sharp Scissors
Pattern (printable link-make sure you uncheck the "fit to page" or "scale to fit" option in Acrobat when printing your pattern)
Fiber Fill/Batting
Unsharpened pencil, Popsicle stick, bbq skewer or something equivalent (optional but very helpful)
Ribbon in your color choice

1-Cut out pattern. There are two sizes of bunnies, large and small.
2-Place two sheets of felt, wrong sides, together.
3-Pin your pattern on the felt and cut out bunnies. When finished, remove the pattern and pin the two pieces of felt together.
4-Sew your bunny together, leaving about a 2″ opening at the bottom to fill. Be sure to back stitch your work so the thread does not unravel.
Felt Bunny Pattern Page Free Printable Easter Printable
5-Trim excess pieces of thread.
6-Stuff bunny with fiber fill. Use small pieces at first and use an unsharpened pencil to stuff it into the ears and head. Fill it up and make it nice and firm so your bunnies stand up.
7-Sew the bunny shut (you can pin it first if that helps you). Back stitching to keep thread in place. Trim excess thread.
8-Your bunny may have uneven edges, because if you're like me, just dangerous enough to sew, but by no means an expert, the bunny won't be perfect. You'll want to use a pair of sharp scissors to trim the stitched edges to have a uniform edge and trim off the uneven felt.
9-Add ribbon to your bunny's neck and enjoy!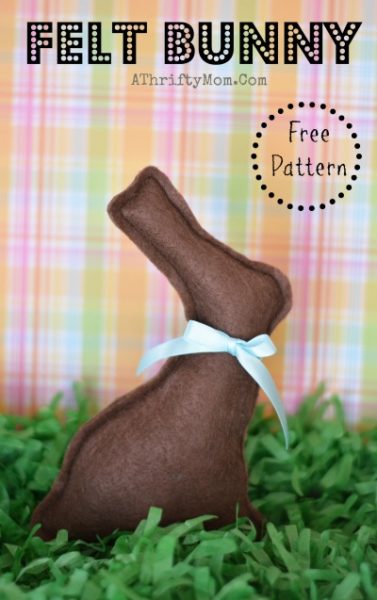 ****************************