If you or someone you love needs a pair or even an extra pair now is a good time … when they are the cost of shipping!!!
This is the FREE pair of prescription glasses I ordered for my daughter back in June. I ordered them Monday, June 10 and they arrived in the mail June 14th!!! Best part … I only paid $9.95 shipping!!!
 They fit great and she has NO complaints about them. If they hadn't fit though and been great, they offer FREE return shipping!
Shipping charges up to $20 may apply. Lenses upgrades and coatings are available at additional cost.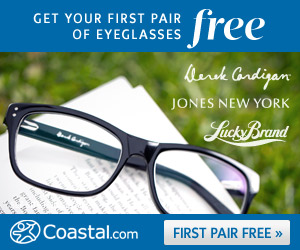 I shared my ordering process with you HERE.
I did get a copy of my daughters prescription and the office measured her current glasses all of this aided she and I in finding a pair that she liked and would work for her.  🙂
Here is a pair that someone shared with us that she ordered for her daughter and she paid $14.16