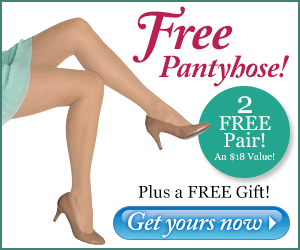 I know a lot of you ladies out there don't use pantyhose anymore….. you lucky she-devils!!! While some of us no longer have flawless, tanned beautiful skin with no varicose veins etc and to get that smooth look, pantyhose is how it is done.
I haven't seen  pantyhose on sale for a while so here is chance to get 2 Pair of MELAS Pantyhose — FREE! with no obligation!
Feel sexy, slim and super-comfortable all day. Your legs, butt and tummy will all look great!
2 FREE MELAS Control Pantyhose –$18 Value!
Body-slimming control tops and cotton gusset for a smooth and sleek look!
Your legs, butt and tummy will look great all-day!
***BONUS GIFT – Mesh Laundry Bag*** (these are great for not just the pantyhose)
No obligation to buy anything else!
Pay just $3.95 shipping and handling