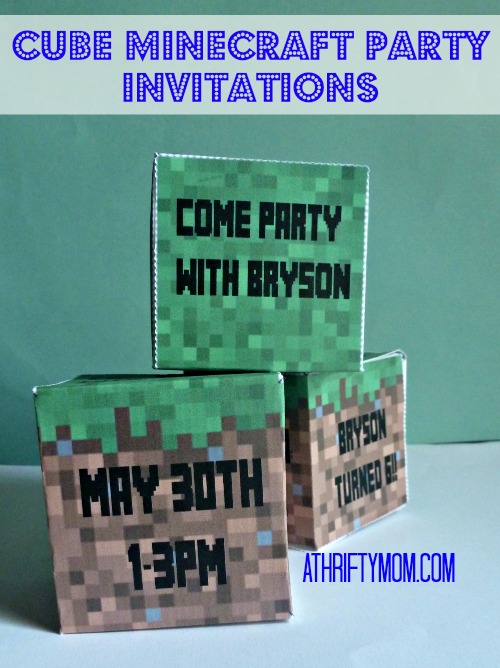 Cube Minecraft Party Invitations
These super simple invitations are great for your child's Minecraft party!  Everything in the Minecraft world is squares or cubes, so why not make the party invitations the same way?
If you have a Minecraft fan, and haven't seen this website, you need to go check it out!  There is so many blocks, characters and awesome stuff to check out.  I am thinking this is a great activity this summer to print them out and let the kids assemble them!
For these invitations you will need:
White card stock
printer
scissors
glue stick
First, pick your block from the above website.  Open it up in your computer program (I used my Silhouette program, but you could open it in Picasa, or word even.) and edit it by adding your party information to each section of the soon to be cube.  You may want to include the child's name and age, address of the party, rsvp information, and any other pertinent information.
Once you have your cube with all of the details on it, you will want to print it and cut it out.  Be sure to cut around the white tabs, you will need those on there.
The greatest part of using my Silhouette program was that I was able to trace it, create it and then cut it with the machine instead of having to cut each one out with scissors.  It is really awesome!
Before you start gluing you want to fold all of your sides.  Fold all of the white tabs in and then fold where the sides of the blocks will be.
Now that you have it cut out you need to glue it.  Put glue stick on all of the white tabs and then begin assembling your block by folding and pressing the white tabs on the inside of the cube.
Now you just need to deliver your invitations!  If you need to mail these, you could mail them flat and then let the child assemble them when they get it.
You might also like these Minecraft deals and ideas:
*****************************
Looking for More Online Deals?  Click here for more  THRIFTY DEALS. Please note that Amazon priced tend to change often so prices may be higher or lower without notice.