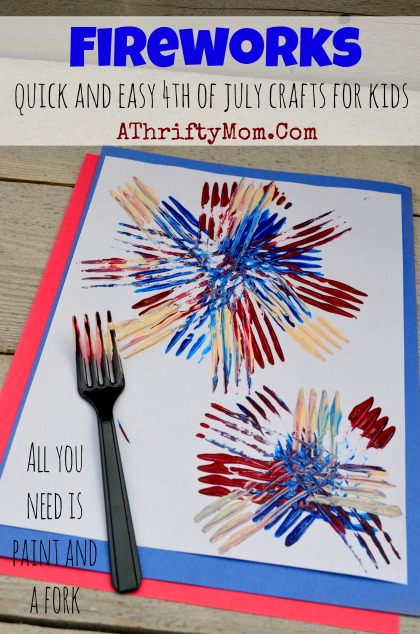 My kids are out of school, summer is here and they LOVE craft and art projects.  Today we made fireworks with a fork for a quick and easy craft project.  I know it sounds a little strange but they had a BALL doing it, and it kept them busy for well over an hour.  If you are looking for a fun patriotic craft idea for the 4th of July then you might want to give this idea a try.
All you need is:
A fork, plastic or metal, both work
A paper plate for the paint
Paper
Start with one color of paint, dip the back of the fork in and then "wipe" the back of the fork onto the paper.  Do this over and over and make a circle pattern.  Clean your fork off and then go to another color.  Do this over and over until you have used all the colors.  I used red white and blue but you could use any color.  They turn out rather pretty and appeal to a broad age group  my 4 year old and my 12 year old both had fun making these.
More 4th of July Recipes and DIY ideas you might want to check out…