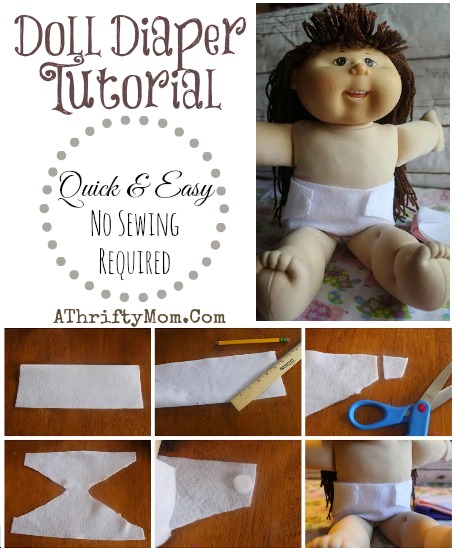 Felt Doll Diaper Tutorial
 Did you know you can make baby doll diapers to fit just about any doll. They are quick and easy and your kids will love being able to quickly change their babies diaper.
Have you seen the ridiculous prices on doll diapers at the store? If you have a little girl surely you have, and the ones that are sticky and supposedly reusable? Not so much, the adhesive doesn't even last as long as real diapers. Besides that there is pretty much one color, white with a tiny bit of print. If you make your own you are saving a ton of money,  you can make them to fit any doll, and in wide variety of colors and even patterns using inexpensive felt squares from the craft store.  Your little girl will love having her own stack of cute and colorful diapers to reuse over and over, they are also washable so they will last a long time as well.
Supplies Needed:
9×12 Felt pieces
scissors
needle and thread or sewing machine
Fold your felt square in half longways.
Measure and mark 1 " down on the ends, and 5 ¼" in on the bottom from each edge- make sure you do this on the folded side.
Using a ruler mark a line from the side marks and bottom center marks creating a triangle on each corner, cut away these small triangles.
Cut 2"off the front upper corners, and 1 " off the back.
Use this first diaper as a template to trace and cut all your other diapers.
Hot glue or sew a small piece of velcro centered  ½" from the edge on front flap. Attach the other piece of velcro onto back flap 1" in as well.
This diaper fits a standard Cabbage Patch, if you are using it for a different brand of doll you can very easily adjust it to fit, after  cutting off the  triangles wrap it around your doll, mark where the velcro would fit best and cut your lengths there instead.
Felt is usually only 4/$1 so you can easily make a dozen of these in various colors in about half an hour, they make a great Christmas gift for any little girl  (or boy) in your life.
More activities, projects and fun things to do with your kids.

Play Time With Dad ~ Dad Race Car Track
Dirt and Worms ~ Fun summer recipe for kids
 Make your own Crayons ~ Activities to do with kids
Be a Back Yard Detective ~ Activities to do with kids
Wiggle Worm Game ~ Games to do with kids
Make your own Bean Bag Toss ~ Games to do with Kids
Watch a Local Race ~ Frugal Family Activities to do
Corn Starch Gak Science Project to do with kids
Color Collage with ads from the paper
DIY Chime Set ~ Music Fun For Kids

Recipe for Homemade Slime
 Under the Sea Art Project for kids
Balloon Barrettes DIY Kids Fashion
Lady Bugs made out of an egg carton
Exploding Soap ~ Microwave Science For Kids
Horse made out of a pop bottle
Thanksgiving Crafts for Kids ~ Paper Turkeys
Easy Kid Games ~ Turn Easter Eggs Into Reading Games for Kids
 Math Games For Kids
Learn to tell time ~ Time Games for kids
SNOW-DAY ACTIVITIES FOR KIDS ~ SNOWMAN COOKIES
NEW YEARS EVE ACTIVITIES FOR KIDS~ "GOODY BAGS"
DIY~ MEMORY MAKING CHRISTMAS DECORATION
LEAF BUILDING FORT ~ HOURS OF FUN FOR KIDS!

SHARPIE TIE DIE SHIRTS ~ EASY SUMMER ACTIVES FOR KIDS
FIREWORKS ~ JULY 4TH CRAFTS FOR KIDS, QUICK AND EASY
VALENTINE CRAFT FOR KIDS ~ HIDDEN MESSAGE HEARTS, QUICK AND EASY
GROUNDHOG DAY PUDDING CUP SNACKS
FROZEN DRINKS
 Frozen Popcorn
Frozen Snowball Pops  
FROZEN Rice Krispy Treats
 Blue Jello Cake Recipe
HOW TO MAKE MEMORY PLATE
EDIBLE PAINTED BREAD 
Magical Moving Milk Science Experiment 
How to make Flubber
Lava Lamp Bottle
Cloud Clay -2 ingredients to make the softest clay EVER 
PATRIOTIC DIY VASE ~ QUICK AND EASY PAINT CRAFT FOR KIDS
Firework Tie Dye Shirt 
Summer Boredom Buster Idea
 DON'T EAT STEVE! FREE PRINTABLE MINECRAFT PARTY GAME 

HOW TO MAKE ICE CREAM IN A BAG 
DRAWING ON THE TRAMPOLINE WITH SIDEWALK CHALK
PAINTED FIREWORKS ~ QUICK AND EASY 4TH OF JULY CRAFT IDEAS
DIY Bleach Art Pillowcase
Matchbox Car Water Races
Water Pinaqua ~ Beat the heat water games
BAT CAVE SHIRT ~ PLAY TIME WITH DAD SHIRT #BATMAN 
FROZEN SNOWFLAKE HEADBANDS, QUICK AND EASY DIY CRAFT #FROZEN
CREATIVE DRAWING IDEA ~ SUMMER BOREDOM BUSTER IDEA
DIY PAINT SPLATTERED DENIM SHORTS, GREAT KIDS CRAFT!
DIY T SHIRT USING A STENCIL
FUN ART PROJECT FOR THE KIDS ~ GET THEM USING THEIR FINE MOTOR SKILLS
Apple Cars a fun healthy snack for kids